Luhan's Message – Hello every one! I'm Luhan of Exo-M! Are you guys waiting for our cokeback? We are really thankful to all of you.We will be with you!!
Baekhyun Message – Hello! I'm Baekhyun! It's a really meaningful thing to meet foreigner fans! Don't be jealous out Korean fans~ We are really looking forward to our comeback in Korea. So don't be too sad.. I want to say I love you to all EXO fans!! We are practicing a lot for our comeback so cheer for us!! Thanks a lot!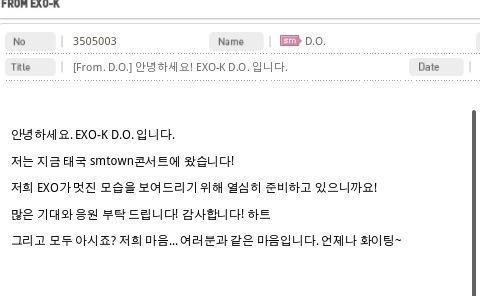 D.O's Message – Hello! We are in Thailand for SM concert! We are preparing a lot for our come back~Plz cheer for us.. and i love you all! Fighting!!
translate by : EXOcastle
source : EXO-K & EXO-M Official Website